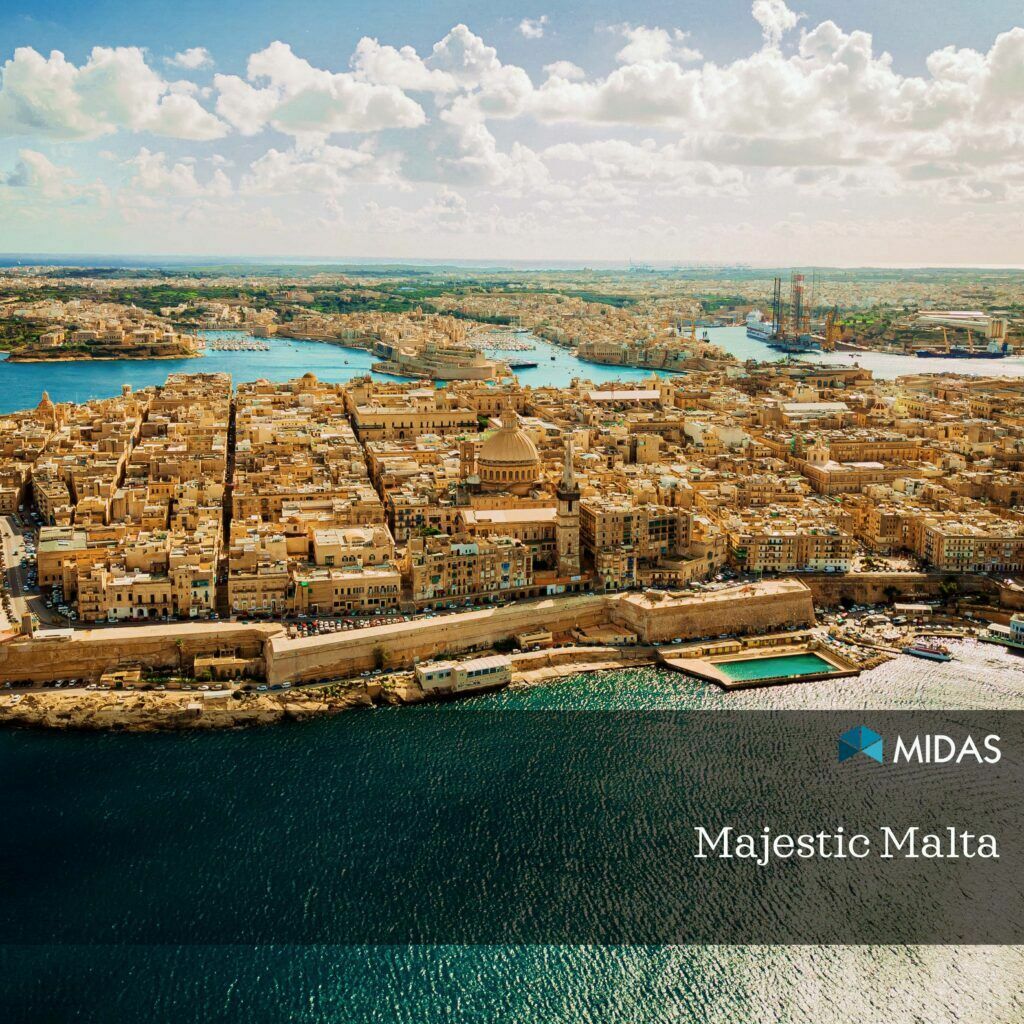 Why Malta?
Want to relocate to Malta? Quite frankly you've made the right choice! Malta is a secret jewel, in the middle of the turquoise Mediterranean Sea. With over 350 days of sunshine a year, Malta is officially the sunniest place in Europe. It offers you a truly exquisite lifestyle, coupled with sea views. Plus this little island has been voted as one of the best places to live on Earth! (InternationalLiving.com 2018)
A Little History
The history of the island is as captivating as its golden architecture, with buildings dating back to 1100AD. Moreover Malta is a home to The Megalithic Temples, which are claimed as the oldest free-standing structures on Earth dating between 3600 BC and 2500 BC. Malta is dripping in thousands of years of history and is often described as an open air museum!
In addition in each of its many town squares, Malta hosts magical Baroque churches, accessible via the quaint narrow lanes.
Malta is captivating in its medieval charm, with its rich culture. It offers countless occasions to immerse oneself in its al fresco celebrations, many of which are accompanied by fireworks. The most spectacular of these is the annual Malta Fireworks Festival, which is centred around The Grand Harbour. We believe that the best view is offshore. Anchor just outside the Grand Harbour and take in an amazing experience for you and your guests, as you view the show from this great vantage point, with the Harbour and the medieval Valletta skyline as its backdrop!
For those Culture Vultures
If you love to travel and experience different cultures, then Malta's proximity to Europe and Northern Africa will have great appeal.
Sail 93km North and you arrive on the coast of Sicily, ready to explore the island and her closely situated Italian motherland.
288km South West and you will hit the North African coast, with the Moorish delights of Tunisia at your disposal.
So Malta is the perfect base for exploration. As you can land a jet with ease at Malta International Airport and you are never far from the airport once you, your family and guests land. Just think, you could be shopping in Milan or dining in Rome within 90 minutes from home.
Water Water Everywhere
With your choice of beautiful, well equipped marinas along the coastline, there are plenty of places to moor a yacht. Valletta Harbour is undeniably the best approach to any European city, a wonderfully majestic experience that must be witnessed.
With so much water around, it would be scandalous not to take to the sea at every opportunity. If you're the adventurous type, then you could compete in the Rolex Middle Sea Race from Malta around Sicily and back or alternatively be a spectator from your own vessel. If you prefer a physical challenge, why not kayak around the islands coastline, paraglide at sunset, abseil, cave dive, or take the opportunity to explore the many shipwrecks around our shores.
If you enjoy swimming, then what better place to live than on an island with inviting blue water all around you. Imagine the delight of the family as they swim offshore and see dolphins jumping up ahead of them! (This really does happen.) Or snorkelling together in the nearby tranquil turquoise waters of the Blue Lagoon.
Experience Something New
With so many things to do here you really are spoilt for choice.
You could take a romantic trip around the island as you watch the sunset behind the medieval city of Valletta.
If relaxing is what you have in mind, then you need to frequent one of Malta's Beach Clubs or spas and with both local cuisine and Michelin star restaurants to choose from, you will want to eat out and entertain as often as possible. If you're a connoisseur of wine and food, then why not try one of the wine and food pairing tours or restaurant safari dinners, where each traditional Maltese dish is sampled in a different restaurant around the city. Gastric adventures, accompanied by your own private guide, or take one of the many winery tours.
In addition, and only a stone throw away, lies the island of Gozo, which offers a more peaceful take on the Maltese lifestyle, with its quiet restaurants and secluded cove beaches.
Settling In
When it comes to where to put down your roots in Malta there are many examples of prestigious real estate. Popular with foreigners new to the island are Portomaso and Tigne Point apartments. Both are situated in Central Malta near the cosmopolitan area of Sliema where you will find shops, restaurants and hotels. If villas are more you thing, then it's better to look into the Santa Maria Estate in Mellieha (the North of the island) or Madliena Village.
If you have a young family, it's reassuring to relax knowing that your children will be in one of the safest environments in Europe. We give you peace of mind in knowing that Malta has an extremely low crime rate. Settling the children is paramount, and with selection of good schools to choose from, they will integrate quickly. Malta's education system offers private international schools for example St. Edward's College, who follow the British curriculum and an option of boarding and Verdala International School who mirror the American curriculum.
Navigation around Malta as a new resident is made easier with the use of the English language. English is the language of business and education. As a new citizen you do not have to learn the Maltese language and can get by effortlessly with only a few pleasantries, Bongu (Hello) and Grazzi (Thank you). Italian and French are also widely spoken on the island.
As part of the E.U, Malta follows E.U law. This can help keep acclimatisation short, especially for those who are already in the E.U. For those who aren't, there is of course the option of Citizenship via the Malta Residence Visa Programme. Malta with its low tax rate, and established healthcare system give you more reasons to choose the island to start you new chapter.
Help is at Hand
With all these varied essentials to consider and organise, moving to a new country can be time consuming and sometimes a challenge. To make this transition as smooth as possible, you need a person on the ground that you can trust here in Malta. We can offer you that, and with it peace of mind that the relocation for you and your loved ones runs without a hitch. In a nut shell, we are here to offer reliable, friendly, discrete advice and connect you to the right people to ensure that your exciting new adventure runs seamlessly. Just let us take care of it for you.